YOUR MATERIAL HANDLING SOLUTION.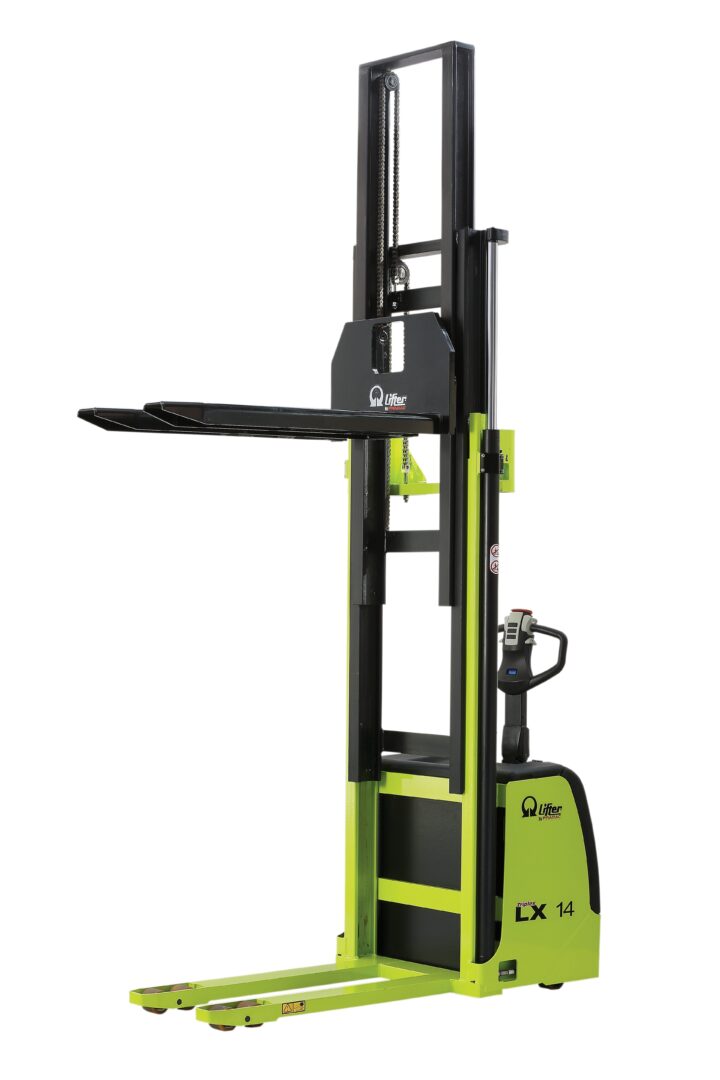 The LX14 stacker is the ideal solution between light-duty and heavy-duty material handling. With the LX14's durability and low maintenance costs, it is suitable for many material handling environments. The tiller arm, equipped with fork lifting and lowering proportional control, improves user-friendliness and maneuverability of the truck. AC technology guarantees more energy efficiency and longer battery duration.
Intelligent Tiller – Fully integrated ergonomic tiller made in techno-polymer offering comfortable grip. Fingertip throttle and proportional fork controls, safety push button, horn, turtle button, hour-meter, battery status indicator as standard equipment.
Triplex – The Triplex model has three lifting stages for height lifting. The two side cylinders guarantee excellent visibility for the operator during the maneuvering phase.
Adjustable Forks – Universal ISO FEM 2A fork holder allows a manual and easy fork adjustment to carry any kind of load, pallet or skid.
Adjustable Base Legs – Adjustable base legs to fit with various pallet sizes and aisle widths. With its superior versatility and extreme durability, it is the ideal solution for any indoor application.
Operator Platform – The LX stacker can be equipped with a cushioned stand-on foldable platforms and is very useful for covering medium-sized distances and for intensive application.
Vehicle Type | Electric Pallet Lifter
Load Capacity | 3,100 lbs.
Wheels | Rubber/Poly
Speed | 3.7 mph
Lift Height | 90″
Other Pallet Stacker Options: